What is your first memory of food?
My first memory of food is of presliced, cellophane-wrapped, bleached white bland bread, toasted in an iron skillet over charcoal fire, and enhanced only by Amul butter, granulated sugar and the company of an unusually large and garrulous family. In those days, the simple promise of buttered toasts had the potential of instantly lifting my mood. I won't be exaggerating if I said that I woke up earlier than necessary only to bite into the slightly charred, salty and crusty bread.
Toasts work like magic. What's even more magical is that it is impossible not to love someone who makes you toasts. My mom made me toasts every day for as long as I lived with her. I always loved all her toasts. Even when they sat in aluminum tiffin boxes for four hours before lunch period on rainy school days. I loved her and her toasts on those days too.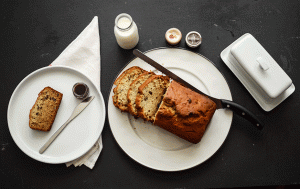 However, those toasts from childhood can only appeal to nostalgia and not my taste buds any longer. I have outgrown those toasts. But I have found that a new and tastier loaf of bread resonates those memories. Exactly a year we had our bread epiphany when we went to a coffee shop and ordered banana and caramel crepes. What was served was less like a crepe and more like a soft buttered toast with sliced bananas. But to their credit, the crepes presaged their arrival with an aroma that wafted across the room, triggering memories of brown bag school excursion breakfasts, and we both went "how nice would it be to bake these memories"? So, that's what we will do here in The Bread Stories. We will bake you delicious slices of stories and hope you will love us for it.